NGEAO Lifetime Achievement Awards

The NGEAO Lifetime Achievement Award is bestowed upon current and former members who performed their duties as a board member and/or contributed to the organization as a member in an extraordinary way. This awarded is the highest honor given out by NGEAO and has only been bestowed upon just a handful of past and present members in the decades long history of the organization.
2012
Diana Cox

Diana Cox was a long term NGEAO Board member, serving as Treasurer, Secretary and Annual Conference Chair. Diana was the catalyst for growth of the Annual Conference.
Rick Fitzgerald

Rick Fitzgerald was a more than 20 year member of NGEAO who was continuously involved in the educational efforts of the organization for the members and the industry through OERB. He was a driving force behind our education partnership with the state universities.
Linda Roberts

Linda Roberts retired in 2020 with more than 40 years as an NGEAO member, despite most years being employed outside Oklahoma. She founded the informal gathering of women referred to as Gas HAGS (Hard-working Able Gas Staff), and hosts the annual HAGS luncheon for the group around the NGEAO Annual Conference. In 1976, she was one of two women members of the "Natural Gas Men's Association of Oklahoma" (NGEAO's earlier namesake), and back then was not allowed on the 14th floor of the Petroleum Club which excluded women on the floor where men would dine and play cards during lunch time.
2013
Jennifer Greenwell

Jennifer Greenwell has been an NGEAO member for 16 years and in the oil and gas industry 25 years, beginning her career with LB Jackson Drilling and spent more than 13 years with independent producer, 
Nadel and Gussman, LLC
. Ms. Greenwell has held progressive roles in accounting, gas balancing, scheduling, marketing and contract negotiation.  As an NGEAO board member, Ms. Greenwell is credited with initiating NGEAO's monthly luncheon meetings to foster education and networking among industry peers, thus paving the way for other NGEAO programs, like scholarships and educational programs.
2014
Sonja Langlee

Sonja moved to Oklahoma from Houston in 1992 to work for Transok. She was elected NGEAO President in 1999, and while the industry went through lean times, she recognized NGEAO as a useful networking tool. Over the next decade and a half, Sonja continued to work for NGEAO in various board positions and volunteer roles, including her most popular chairmanship as the Door Prize Chairman for the annual conference.  She handled the task for many years even when you actually shopped and purchased prizes. This was long before gift cards became the prize of choice.   Today she is the Gas Supply Manager for Aka Energy Group and continues to serves as a mentor in the industry and is an advocate for college student involvement in the organization.  Sonja makes a difference in NGEAO by continuing to share her knowledge, experience, enthusiasm, and the ability to recognize strength in others.
Susan Manning

Susan Manning was the President of NGEAO from 2004-05. A former Gas Supply Representative for Oneok Field Services, Susan is currently an Energy Consultant who has partially retired from the oil and gas business. Her contributions to NGEAO are many. Susan is responsible for technological advancements in the organization's online event registration process and the partnership with Memberclicks, the company that handles the website, membership database, meeting registrations and communications. She contracted with the credit card service company and set up online banking procedures so that members could use their credit cards and pay for events online. She set up Treasury procedures to ensure NGEAO's taxes were filed properly and timely. Her commitment has been immeasurable.
2021
Terri Tidmore

In 1997, Terri Tidmore was elected as 
the Organization's first female President. She was also elected 
President in 2017. Terri is credited with reorganizing NGEAO's financial circumstances and certain members activities in 1996 and 1997 in such a great way that it ultimately propelled the organization into the 21st century with a solid foundation for years to come.  Unanimously approved by the board to receive this award, Terri was introduced as the 2021 Lifetime Achievement Award winner by her longtime friend and 2012 Lifetime Achievement Award winner, Linda Roberts.
2022
Kim King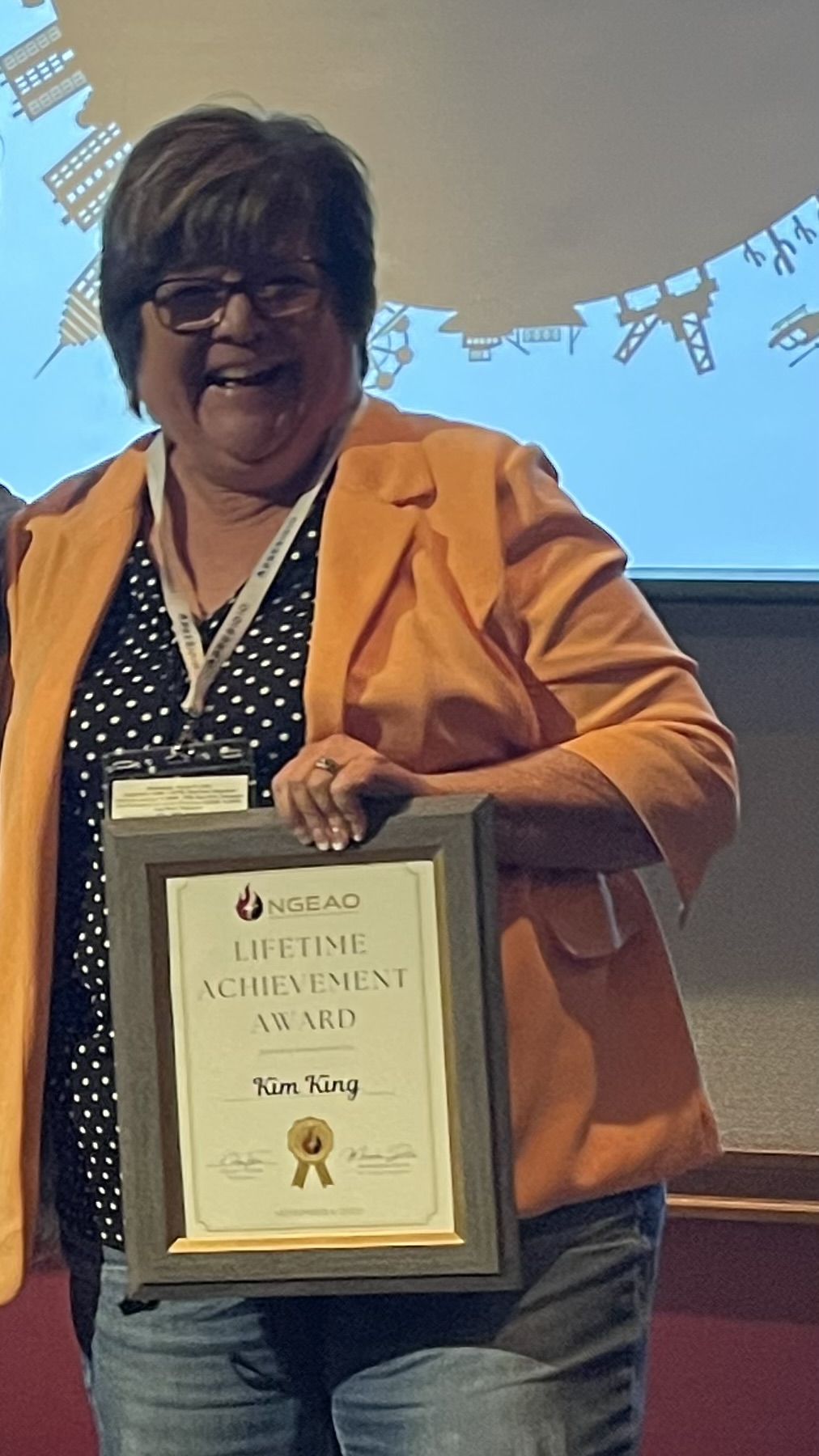 For more than two decades Kim King was NGEAO steadfast foundation for leadership. In particular, it was Kim's leadership behind the scenes at the Annual Conference each year that made those events a success each year. Kim's selfless contributions as a member, Board Officer and Director, and President positively impacted so many throughout the organization and energy industry. Kim is a longtime community volunteer in the Tulsa area, and and retired from Cimarex where she spent more than 25 years in various commercial roles.
 "I couldn't have had a successful tenure on the board without Kim's relentless energy, enthusiasm and can-do problem solving which was best displayed during the annual conference mayhem week! I wholeheartedly support without reservation!" – Mark Cahill, 2012 NGEAO President
"During her career Kim selflessly gave to NGEAO and went above and beyond so many times. You have my 100% support." – Bill Shanahan, 2011 NGEAO President
2023
Bill Shanahan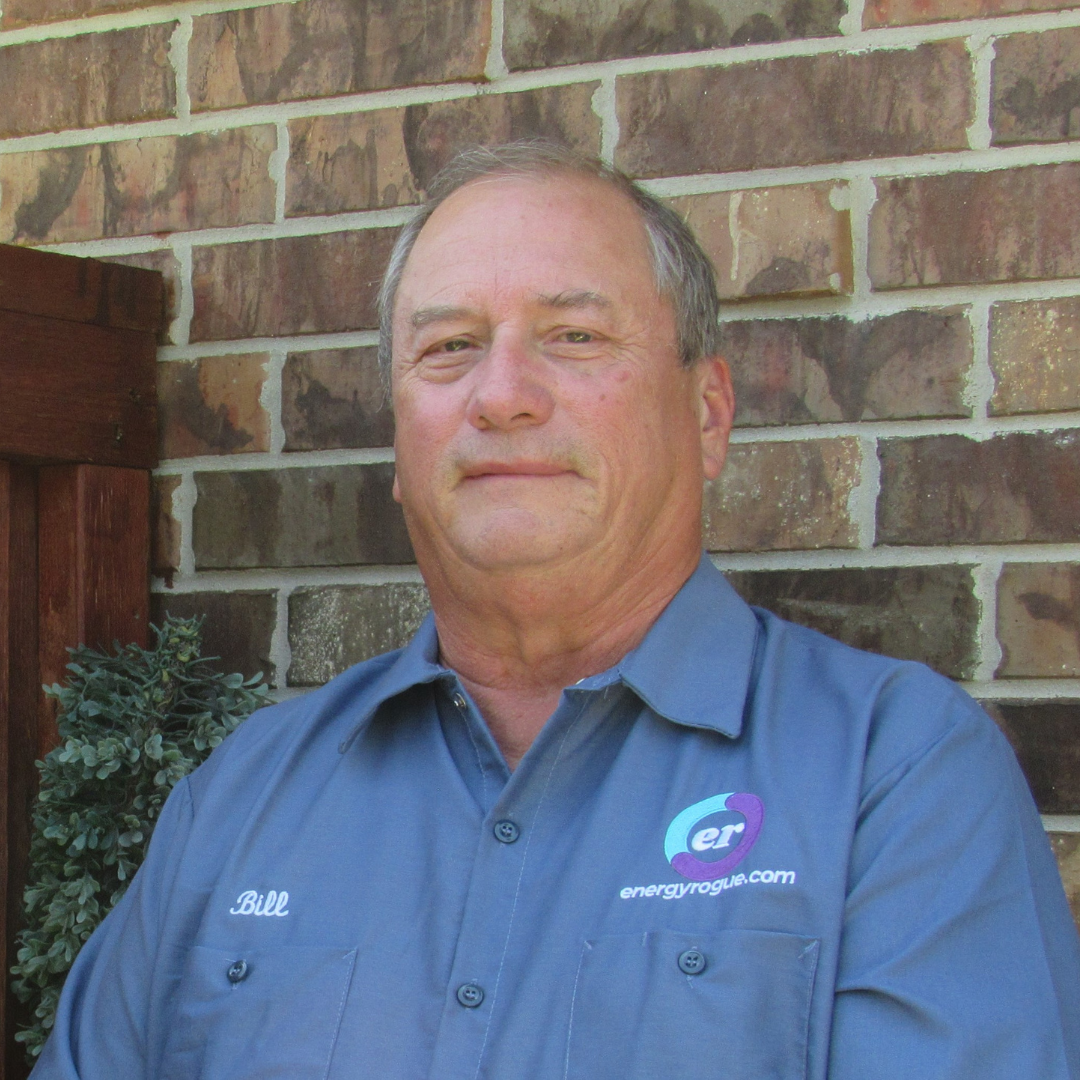 Since the early 1980s Bill Shanahan has been participating, organizing, and/or directing NGEAO events. A proud Oklahoman, Bill was the organization's President in 2011. Regarded as the "Bowling Godfather", he is credited with founding and directing the bowling event at the Annual Conference for more than a decade. Bill is a selfless leader who always makes the time to connect with those whom he worked with in the energy industry and at NGEAO.  It was Bill's leadership while on the board and during his Presidency that saw NGEAO institute educational workshops and seminars as a staple during the Annual Conference.  Former NGEAO President, Mark Cahill, and Energy Rogue Co-Founder, Brian Pieri, presented the honor at the 2023 Annual Conference on August 31st.
"Bill is the most relatable person that I know in the energy industry. He embodies everything that it means to be an NGEAO member with his charisma, legendary stories, sharp humor, fun-loving attitude, and dedicated work ethic. He's someone who helped shape NGEAO into the organization that it is today." - Colby Tiffee, NGEAO President 2022-'24